Features of 2 in 1 AOS Electrostatic Air Precipitator with UV Ozone Injection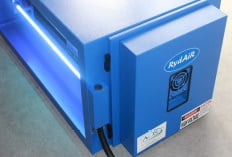 2 in 1 AOS precipitator with UV ozone and with ozone injection (B–Model) is available in all RY series units.
The best solution to eliminate and resolve smoke and odour issues from the electrostatic filter and kitchen exhaust system.
The UV ozone lamp produces ozone and undergoes chemical processes such as photolysis and ozonolysis that breaks down grease and odour containing compounds producing during the cooking process in the commercial kitchen exhaust.
This 2 in 1 application reduces oil and grease build up in the kitchen exhaust ductwork and reduces fire risk.
The reaction between ozone and grease reduces kitchen fumes and odours which results in clean and odour free at the discharge point.
Ozone injection reacts with grease and oil mists causing the particles to turn into fine dust.
2 high output UV lights are fitted after the electrostatic air filter with cells and they can be easily removed for maintenance and replacement.
UV Ozone injection lamps turn on when the AOS electrostatic precipitator is in full operation.